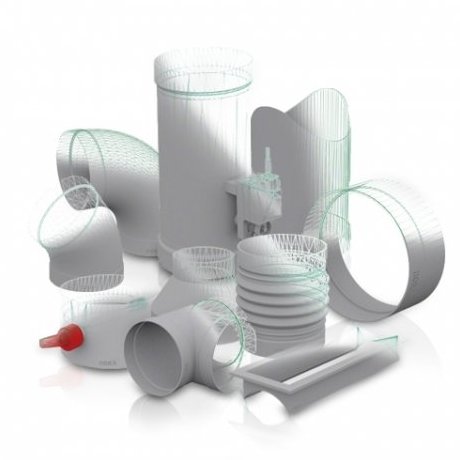 Discover a wide range of high-quality ventilation molded parts made of plastic at Kwerk GmbH. As a proud partner of HOKA, we offer PVC-U, PPs, PPs-EL, PP-H, PE-HD, and PVDF ventilation molded parts in various designs and dimensions. Our products are particularly used in corrosion-resistant extraction systems in the chemical industry, electroplating industry, paper and food industry, as well as laboratory facilities.

As a leading supplier of ventilation molded parts on our B2B platform Kwerk.de, we provide you with access to a comprehensive selection of over 8000 molded parts, fittings, and devices for ventilation technology. From pipe bends and tees to flanges and cleaning openings - we have the right ventilation molded part for your requirements. Through our close collaboration with HOKA, we can also offer customized solutions tailored to your processes and application areas.

Our ventilation molded parts are manufactured to the highest quality standards and are characterized by reliable processing and assembly. We use modern bonding and welding techniques to ensure a robust and durable connection. In addition to our standard products, we also offer practical plug-in systems in various dimensional ranges and materials to provide you with maximum flexibility.

For optimal flow rate control, we offer a wide selection of ventilation molded parts such as dampers, cuffs, silencers, rain caps, and much more. In addition to our extensive product range, we also provide various accessories and additional services such as service and installation.

Trust the long-standing partnership between Kwerk GmbH and HOKA for first-class ventilation molded parts made of plastic. Our products meet the highest German industry standards and will reliably help you optimize your ventilation technology.

Visit our B2B platform Kwerk.de today to obtain more information or contact us by phone. Rely on the expertise of Kwerk GmbH - your reliable partner for top-quality plastic ventilation molded parts.