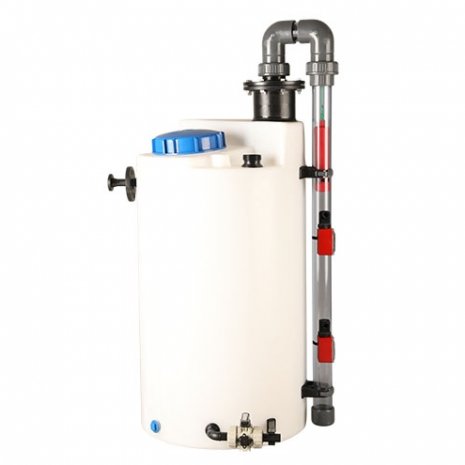 Plastic Tanks for Water Treatment, Chemical, and Process Engineering

Discover a comprehensive selection of high-quality plastic tanks for various applications in water treatment, chemical, and process engineering at Kwerk.de. Our product range includes dosing tanks, salt dissolvers, storage tanks, containment and cylindrical tanks, spill trays, holding racks, and custom-made solutions in the field of plastic tank construction. Our tanks are characterized by their chemical resistance, smooth interior walls, and seamless production using rotational melting processes. We offer a variety of options such as acid vapor separators, PE welding fittings, tank connectors, pipelines, optical and electrical level indicators, plastic fittings, steel frames, agitators, and much more. All common plastic tanks are available directly from stock.


Precision-Crafted Plastic Tanks and Accessories According to Your Requirements

Our experienced tank construction department manufactures welded thermoplastic cylindrical and rectangular tanks in accordance with DVS guidelines. We also offer custom-made special constructions such as process tanks, storage tanks, mixing tanks, dosing tanks, spill trays, and all necessary accessories. With our workshop and a dedicated team of technicians, we are available to provide you with expert advice in selecting the right plastic tank.


Cylindrical and Rectangular Tanks for Versatile Applications

Our plastic cylindrical tanks are standing tanks with a flat, welded bottom. They are manufactured using extrusion welding processes from seamless casing pipes or welded plates. With various lid and bottom options, as well as the necessary accessories, we offer flexible design possibilities. Before delivery, all tanks undergo leak testing and are provided with a factory certificate. To eliminate possible transport damage, we recommend conducting a trial filling with water before initial filling with the medium. The installation of the tanks requires a level foundation or installation surface and a secondary containment basin. Our rectangular tanks made of PP in accordance with DVS guidelines offer a space-saving solution with a large useful volume. They are custom-made and supplied with reinforced steel or stainless-steel frames. Thanks to a modular construction system, rectangular tanks can be prefabricated and adjusted and installed on-site as needed. Our rectangular tanks are made of high-quality PP, PE, PVDF, and other materials also used in cylindrical tanks.

At Kwerk.de, you will receive first-class quality at fair market prices. We prioritize precision and provide tailor-made solutions for your individual requirements. Please feel free to contact us for further information or personal consultation