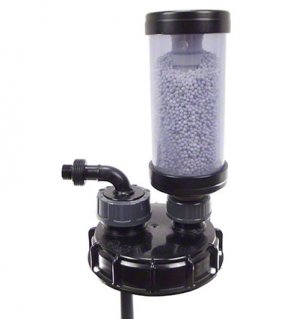 IBC screw caps are an essential component of Intermediate Bulk Containers (IBCs), commonly used large containers for the transportation and storage of liquids and bulk materials. In combination with various attachments, they provide a versatile and reliable solution for industries such as chemical, pharmaceutical, food, and agriculture.

The high-quality IBC screw caps ensure a secure seal of the container, preventing leakage or contamination. They are compatible with various attachments that can be installed on the IBC cap to optimize fluid handling.

One of the most common attachments is the camlock coupling, enabling quick and secure connection to the IBCs. It ensures easy and efficient liquid transfer without any leakage.

Another important attachment that can be installed on the IBC cap is the chemical vapor separator. It helps capture harmful vapors and gases during the filling and dispensing process, separating chemical vapors to ensure workplace safety.

The dip tube is a practical attachment that facilitates access to liquids inside the IBC. It allows for safe suction of the liquid directly from the top of the container.

For safe and efficient filling of the IBCs, filling couplings can be installed on the screw cap. They enable controlled liquid inlet, and a level probe prevents overfilling during the filling process.

The integration of level monitoring with level probes is an important feature that can be realized on the IBC screw caps. This monitoring continuously tracks the fluid level in the container to ensure precise measurement and monitoring. It enables effective planning of refills or emptying and prevents overfilling or underfilling of the IBCs.

The combination of IBC screw caps, the mentioned attachments, and level monitoring with level probes provides an optimal solution for safe and flexible dispensing and filling processes. Through careful selection of high-quality attachments and precise level monitoring, operational workflows can be optimized, potential risks minimized, and the efficiency of storage and operational processes enhanced.