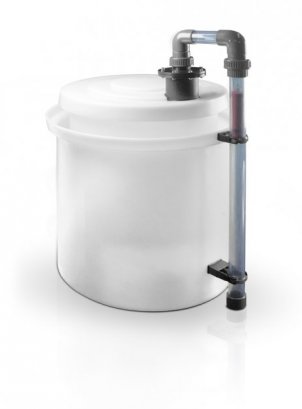 At Kwerk.de, you will find an extensive range of industrial containers, including dosing tanks, salt dissolution tanks, cylindrical tanks, containment trays, and storage tanks. Our salt dissolution tanks are made of chemical-resistant natural PE and offer a variety of applications in the industrial, chemical, and process engineering fields.

Our tanks are characterized by their chemical resistance, smooth inner walls, and seamless production through rotational molding. Upon request, we can equip the tanks with a wide range of accessories such as fittings, level indicators, tank feedthroughs, pumps, agitators, and additional components. Furthermore, we also offer customized racks to ensure safe installation in your production environment.

Our cylindrical salt dissolution tank with a lid is made of UV-stabilized, food-grade polyethylene. It is available in transparent natural color (also available in black or blue upon request). The tank features a shock- and impact-resistant liter scale and flat areas for the installation of fittings and connections according to your specific requirements.

Salt dissolution tanks find application in various fields such as water treatment, chemical industry, medical applications, and food industry. In water treatment, they are used for storing salt solutions for water desalination or demineralization. In the chemical industry, they are employed for storing chemical solutions and salt solutions. In medical applications, they serve for the storage of salt solutions for intravenous therapies, ensuring the highest cleanliness and sterility. In the food industry, salt dissolution tanks are utilized for storing salt solutions for food preservation and production, meeting the strict requirements of the food industry.

With their chemical resistance and wide range of applications, salt dissolution tanks are an indispensable component in various technical fields.

Please note that all the information provided above has been created with the utmost care and best knowledge. However, no liability can be derived from the content. For more information, please refer to the drop-down menu next to the article or contact us by phone.