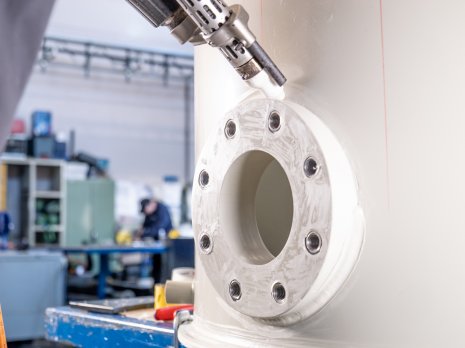 With kind support from
Roos & Co. Plastic and Metal Processing GmbH, Montabaur



Plastic Welding: Processes, Benefits, and Detailed Application Areas

Discover everything you need to know about plastic welding. Plastic welding is an effective process for the permanent joining of plastics and finds wide application in various industries such as plastic processing, construction, and automotive.

Plastic welding employs different techniques to bond plastics together, including hot air welding, extrusion welding, ultrasonic welding, and vibration welding. Each technique has its specific applications and advantages.

Hot air welding is one of the most common methods used for joining thermoplastic materials. It involves using hot air to soften and melt the plastic surfaces, enabling them to be fused together.

Extrusion welding is mainly used for pipes and profiles. In this method, a welding rod is heated in a welding gun and introduced into the gap between the plastic parts to be joined. Through pressure and heat, the plastics melt and form a strong bond.

Ultrasonic welding utilizes ultrasonic vibrations to weld plastic parts together. This technique is particularly effective for small plastic components, allowing for fast welding times and precise control of the weld seams.

Vibration welding is similar to ultrasonic welding but employs lower-frequency vibrations. It is commonly used for larger plastic parts, such as vehicle components.

Plastic welding offers numerous advantages over other joining methods. It creates strong and durable connections that are often as robust as the original material itself. Precise welding parameters enable the production of accurate and uniform welds. Additionally, plastic welding provides cost savings as it eliminates the need for additional fasteners or adhesives.

In practice, plastic welding is applied in various fields. It is used in the construction of containers and pipelines in the chemical industry and water treatment. In the automotive sector, plastic welding is employed for manufacturing plastic parts like bumpers, panels, and interior trims. The construction industry relies on plastic welding for roofing, windows, doors, and other building components. Furthermore, the electronics industry utilizes plastic welding for producing housings and connectors.

To achieve high-quality results in plastic welding, several important considerations should be taken into account. These include selecting the appropriate welding method based on the type of plastic and application. Surface preparation through cleaning and bevelling is also crucial. Moreover, meticulous control of welding parameters such as temperature, pressure, and welding time is essential to ensure optimal weld quality.

For professional results, we recommend consulting an experienced plastic welder or collaborating with specialized companies equipped with the necessary expertise and state-of-the-art equipment.

Learn more about plastic welding and its versatile applications. Contact us for further information and benefit from the expertise of our professionals.