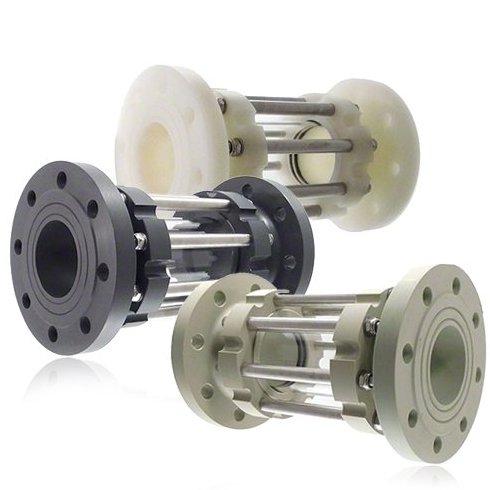 These sight glasses enable reliable monitoring of the function and performance of individual devices as well as entire systems. They provide unobstructed passage. For safety reasons, shut-off valves are installed before and after the sight glass in process engineering to minimize the release of media in case of glass tube breakage.

In principle, the sight glasses are constructed according to the same principle. The solid flange, made of PVC U, PP, PVDF, and electrically conductive PE, in accordance with DIN 2501, also serves as a support for the stainless steel threaded rods that are subjected to tension in the flange. The borosilicate glass can be supplied in lengths other than the standard, and the sealing of the glass tube is done with EPDM, FKM, or other sealing materials.

Kwerk GmbH supplies all flange standards for global applications.


Our plastic sight glasses are manufactured in a robust design and are available in the following materials:

- PVC-U
- PP
- PVDF
- PE-EL and special materials.


PE (Polyethylene) Sight Glasses:

PE sight glasses are made of high-density polyethylene (HDPE) and are highly resistant to a variety of chemicals, including acids, alkalis, and organic solvents.
They offer good transparency and enable easy visual monitoring of processes.


PVDF (Polyvinylidene Fluoride) Sight Glasses:
, which has high resistance to aggressive chemicals, including strong acids, alkalis, and solvents.
They offer excellent thermal stability and can be used at high temperatures.


PVC-U (Unplasticized Polyvinyl Chloride) Sight Glasses:

PVC-U sight glasses are made from unplasticized polyvinyl chloride and offer good chemical resistance to many acids, alkalis, and salt solutions.
They are typically transparent and allow visual inspection of processes.


PE Electrically Conductive Sight Glasses:

PE electrically conductive sight glasses are made from special electrically conductive polyethylene materials to prevent electrostatic discharge.
These sight glasses are commonly used in areas where avoiding electrostatic discharge is critical, such as in hazardous environments or when handling flammable liquids.
PE electrically conductive sight glasses offer similar chemical resistance to conventional PE sight glasses and enable visual monitoring of processes.

It is important to note that the selection of the appropriate sight glass depends on the specific requirements of your application. It is recommended to consult a specialized supplier or manufacturer for further information and to find the suitable sight glass for your needs.