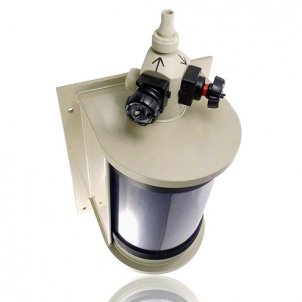 The Solution for Precise Sampling - Kwerk's Innovative Probe Extraction Unit

Kwerk has developed a specialized probe extraction unit designed to meet the requirements of the chemical and process engineering industries. Our high-quality sampling cabinets enable safe extraction of aggressive chemicals and liquids during ongoing processes.

The closed design of our probe extraction unit ensures secure containment of fluids, minimizing the risk of leaks. A transparent protective shield provides clear visibility while ensuring safe handling. In the event of over-dosage, an integrated overflow system allows separate drainage of the excess liquid at the bottom.

Flexibility is key. The plate on which the collection vessel is placed is adjustable in height, accommodating vessels of different sizes. Additionally, we offer an optional connection for suction, enabling optimal control of process conditions.


Our probe extraction unit is constructed from premium materials:

- Housing: Polypropylene (PP)
- Rotating unit: Polyethylene (PE)
- Protective shield: Polyvinyl chloride (transparent PVC)
- (Other materials available upon request)

At Kwerk, we prioritize quality and reliability. Our probe extraction unit has been meticulously designed and engineered to meet the highest standards.

For more information about our probe extraction unit, please click on the dropdown menu located next to the article or contact us by phone. Our dedicated team is available to assist you and answer any inquiries.

Please note that the above information has been provided with utmost care and knowledge. However, no guarantee can be given regarding the accuracy and binding nature of the content.