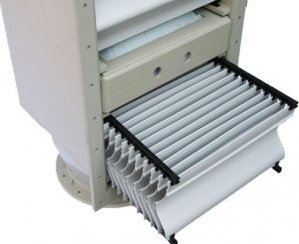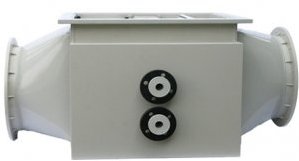 Our TA 125-2 / TA125-2-S, TA 125-2-A / TA 125-2-A-S series of droplet separators provide a high-performance solution for efficiently separating liquid components from gas and air streams. Especially when combined with air washers and gas purification systems, they are essential for reliable cleaning.

Our plastic droplet separators impress with their high corrosion resistance, ensured by the use of high-quality plastics such as PVC-U, PP, PPs, PE, and PVDF. This makes them suitable for handling aggressive gases and vapors. The impact surface separation mechanism redirects the gas flow multiple times, causing the entrained liquid droplets to collide with the profile walls due to their inertia and be separated there. The separated liquid is guided away through special phase separation chambers and grooves on the profiles.

Thanks to the sinusoidal design of the separator profiles, our droplet separators achieve high separation efficiencies of over 99% for droplets above the threshold droplet size. Despite high flow velocities, the pressure losses remain low. This enables effective separation of droplets from spray nozzles (10...100 µm) as well as ultrafine particles (below 10 µm). Our droplet separators provide a simple and cost-effective solution for pollutant separation with minimal equipment and energy requirements.

The droplet separators can be supplied for both horizontal and vertical flow configurations, consisting of a housing with the corresponding droplet separation inserts. A gas stream laden with droplets is guided through a flow grid consisting of curved and profiled lamellas. The redirection between the lamellas causes the trajectory of the droplets to deviate from the original gas flow. The separation efficiency depends on the geometry of the redirection, gas and liquid parameters, as well as the size and initial load of the droplets.

The threshold droplet plays a crucial role in the separation performance. Droplets larger than the threshold droplet size are considered to be separated 100%, while droplets smaller than the threshold are primarily separated to a lesser extent. The fractional separation efficiency allows for the assessment of a systemís separation performance.

Our droplet separators made of PVC-U, PP, PPs, PE, and PVDF offer an efficient and reliable solution for liquid separation in process engineering. Contact us for more information or to find the perfect solution for your requirements.