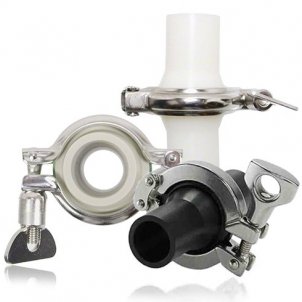 Kwerk GmbH is the premier supplier of high-quality plastic Tri-Clamps, manufactured through precision injection molding and distributed globally. As the sole provider of these superior clamps, Kwerk GmbH offers a wide range of plastic materials such as PVDF, natural PP, PE, and PVC-U. Specifically designed for the pharmaceutical and food industries, these Tri-Clamps excel in their exceptional chemical resistance and hygienic properties.

Thanks to our state-of-the-art injection molding process, Kwerk GmbH ensures top-notch quality and precision in every plastic Tri-Clamp. With extensive experience and expertise in manufacturing injection molded parts, we guarantee that each product meets the highest standards. Kwerk GmbH's plastic Tri-Clamps provide reliable and leak-free sealing for piping systems, tanks, and other equipment in the pharmaceutical and food industries.

As a worldwide distributor of plastic Tri-Clamps, Kwerk GmbH has the capability to deliver our high-quality products to customers across the globe. With an extensive distribution network and efficient logistics, we ensure fast and reliable delivery, regardless of the customer's location.

Choose Kwerk GmbH's plastic Tri-Clamps and benefit from the outstanding quality, precision, and reliability they provide. Trust the industry leader and leverage the extensive experience and expertise of Kwerk GmbH. Join our global network and establish a successful partnership.

Together we thrive - We are seeking global distribution partners for our premium plastic Tri-Clamps. Become part of our global success and seize the opportunity for a lucrative partnership with Kwerk GmbH. Contact us today and start your success story.