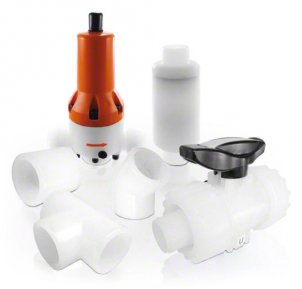 PVDF piping systems offer exceptional resistance to acids, organic liquids, and UV radiation. They are primarily used in the fields of chemical and process engineering. PVDF is also ideal for ultra-pure water and high-purity water systems in the semiconductor and photovoltaic industries due to its high purity. Our PVDF pipes, fittings, and valves are manufactured from high-quality PVDF SOLEF® raw material, which provides excellent properties for industrial applications. In our navigation menu, you will find a well-organized selection of PVDF valves, including PVDF ball valves, PVDF diaphragm valves, PVDF check valves, and PVDF butterfly valves.

PVDF is a thermoplastic engineering material with a fluorine content of approximately 59%. Through the polymerization of the vinyl fluoride monomer, PVDF (polyvinylidene fluoride) is created—a plastic with outstanding mechanical, physical, and chemical properties. The application range of PVDF extends up to temperatures of 140°C. The PVDF raw material from SOLEF® consists of granules and does not contain any additional additives such as thermal stabilizers, fillers, or processing aids. By avoiding such additives commonly found in other thermoplastic materials, the excellent properties of PVDF, such as its chemical resistance, are preserved even after processing.

PVDF is characterized by its exceptional chemical resistance. It is resistant to most inorganic chemicals such as acids, salts, aliphatic and aromatic hydrocarbons, organic acids, alcohols, and halogenated solvents. However, it is not resistant to basic amines, alkalis, alkali metals, elemental fluorine, and highly polar solvents such as ketones.

Another advantage of PVDF is its outstanding abrasion resistance, confirmed by the Taber abrasion test. This test measures material abrasion under defined conditions, and PVDF exhibits the best abrasion resistance among all our thermoplastic materials.

PVDF also offers excellent mechanical properties, especially in high-temperature applications. Additionally, it is highly resistant to aging in atmospheric conditions, sunlight, and UV radiation.

We have provided this information with the utmost care and best knowledge. However, please note that no legal binding can be derived from it.