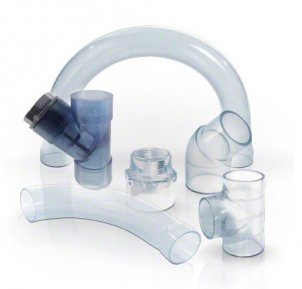 Experience the benefits of Clear PVC Pipe Systems, specifically designed for applications where visual monitoring of processes is crucial. With its exceptional clarity, smooth interior walls, and reliable solvent-welded connections, Clear PVC Pipe Systems offer a versatile and cost-effective alternative for various piping needs.

Manufactured in IPS sizes to Schedule 40 dimensions, Clear PVC Pipe Systems provide optimal performance with sufficient wall thickness for most pressure applications while maintaining transparency. The corrosion-resistant nature of Clear PVC ensures its integrity in harsh environments, making it suitable for both positive and negative pressure applications, including vacuum service.


Key Features and Specifications:

- Material: All PVC Schedule 40 CLEAR pipe and fittings are manufactured from Type I, Grade I Polyvinyl Chloride (PVC) compound, meeting ASTM D1784 standards.
- Quality Assurance: Clear PVC Pipe Systems consistently meet and exceed the applicable Quality Assurance test requirements of ASTM D1785 for material, workmanship, burst pressure, flattening, and extrusion quality.
- Fields of Application: Clear PVC Pipe Systems find extensive use in sight glass installations, dual containment piping, chemical and food processing, pharmaceuticals, laboratory applications, waste treatment, plating, fluid transfer with visual monitoring, microchip fabrication, and more.
- Advantages: These systems offer good pressure-bearing capability, smooth interior walls for unobstructed flow and reduced sediment buildup, chemical resistance, non-contaminating properties for purity applications, exceptional corrosion resistance, and lower overall installed cost compared to alternative solutions.
- Easy Installation: Clear PVC Pipe Systems can be easily installed using the same methods as standard PVC pipes. The belled ends eliminate the need for couplings in long, straight runs, further streamlining the installation process.

Choose Clear PVC Pipe Systems for reliable, visually monitored fluid conveyance in a wide range of applications. Experience the convenience and efficiency of GF Harvel Clear™ PVC Schedule 40 piping, designed and manufactured with uncompromising quality in the USA.