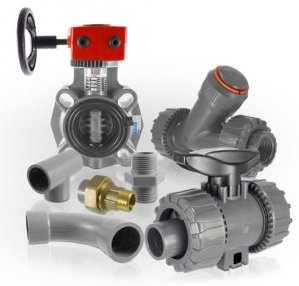 A FIP PVC U check valve is a specialized type of valve used in PVC U pipeline systems to ensure unidirectional flow of media and prevent backflow. It is made of high-quality PVC U material, which exhibits high resistance to chemical substances and mechanical stresses.

The check valve features a construction with a movable flap or disc that opens at a certain pressure or flow direction, allowing flow to pass through. Once the pressure or flow direction is reversed, the flap automatically closes to prevent backflow and maintain the integrity of the pipeline system.

The FIP PVC U check valve is used in various applications, including wastewater systems, water supply pipelines, pumping stations, swimming pools, industrial plants, and other processes. It provides an effective solution to prevent the backflow of media and avoid undesired effects such as pressure surges, contamination, or damage to the components of the pipeline system.

FIP is a renowned manufacturer of valves that offers high-quality and reliable PVC U check valves. As a longstanding partner of FIP, Kwerk GmbH is a trusted provider of these valves. Our PVC U check valves comply with international standards and ensure safe and efficient operation in your applications. Rely on our experience and expertise to find the suitable check valve for your specific requirements.