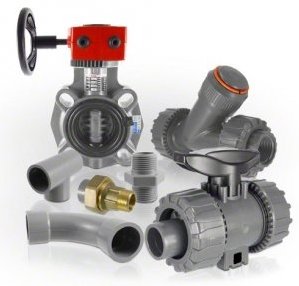 Welcome to Kwerk GmbH - your leading provider of high-quality PVC U valves from FIP Italy in Europe.

As a longstanding strong partner of FIP Italy, we are proud to offer you a comprehensive selection of premium PVC U valves. Our range includes a variety of products specifically designed to meet the requirements of pipeline systems. With our expertise and commitment to quality and customer satisfaction, we strive to provide you with the best solutions for your individual applications.

Our PVC U laboratory valves are specially designed for use in laboratory environments. They are characterized by precise flow control, chemical resistance, and long lifespan. FIPís angle seat valves offer reliable sealing and easy operation, making them ideal for applications that require precise flow control.

FIPís PVC U check valves prevent the undesired backflow of media and ensure smooth media flow in one direction. With their robust constructions and reliable sealing, they are an excellent choice for various applications.

Our PVC U pressure relief valves enable precise control of pressure in pipeline systems. They ensure a constant pressure and offer easy handling. FIPís PVC U ball check valves provide one-way flow and effectively prevent the backflow of media. They are known for their reliable sealing and quick response.

FIPís venting valves allow efficient air venting in pipeline systems, while our PVC U foot valves ensure one-way media flow and prevent backflow into the pump. Our PVC U air release valves provide effective ventilation of pipeline systems, ensuring smooth operation.

Kwerk GmbH takes pride in being a longstanding strong partner of FIP Italy. We are one of the largest providers of PVC U valves in Europe, known for our quality, reliability, and top-notch customer service. As an authorized online retailer, we offer you access to a wide range of FIP products that meet the highest quality standards.

Trust in the expertise and experience of Kwerk GmbH when it comes to high-quality PVC U valves from FIP Italy. Visit our B2B portal or contact our team to get more information, receive personalized consultation, or obtain tailor-made offers. We look forward to providing you with the best solutions for your pipeline systems and meeting your requirements.