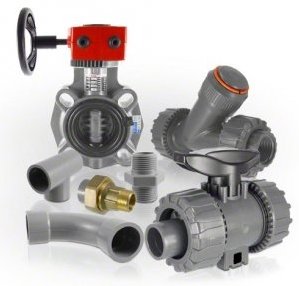 The FIP Italy PVC U strainers are high-quality valves specifically designed for use in pipeline systems. They are used to effectively trap impurities and solids from the flowing media, protecting pumps, valves, and other components from damage and clogging.

FIP Italy offers a variety of PVC U strainers in different configurations to meet the specific requirements of applications. These include flanged strainers, equipped with flanges for easy installation and removal, as well as threaded fitting strainers, providing a secure and reliable connection in threaded joints. These configurations are suitable for applications with both larger and smaller diameters.

The PVC U strainers from FIP Italy are available with various perforations to meet the specific needs of the application. They can be equipped with holes or slots in the filter drum, depending on the type of impurities in the medium and the desired filtration level.

The FIP Italy strainers are made of high-quality PVC U material, which exhibits excellent resistance to chemicals, corrosion, and mechanical stress. PVC U is a robust and durable material that ensures reliable performance even under demanding environmental conditions.

Kwerk GmbH is a longstanding distributor partner of FIP Italy, providing access to a wide range of PVC U strainers. As a renowned B2B portal for valves and fittings, Kwerk GmbH is committed to delivering top-quality products and services. Our dedicated team of experts will assist you in selecting the right PVC U strainers for your specific requirements.

Trust in the high-quality PVC U strainers from FIP Italy available through Kwerk GmbH. Our products are manufactured according to international standards and provide reliable performance for your pipeline systems. Enhance the efficiency and reliability of your facilities by effectively filtering impurities and protecting sensitive components. Rely on the longstanding experience and expertise of Kwerk GmbH to find the right solution for your needs.