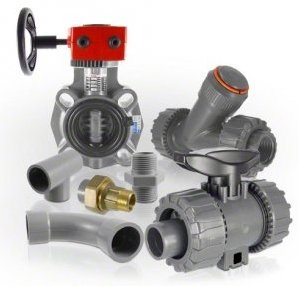 PVC-U ball valves and hand diaphragm valves are two different types of valves used in pipeline systems. Below you will find a detailed description of the differences between UPVC ball valves and hand diaphragm valves to help you choose the right valve for your requirements.

UPVC ball valves are valves that regulate the flow in the pipeline through a rotating ball. They are made from unplasticized polyvinyl chloride (UPVC), a robust and chemically resistant material. UPVC ball valves offer easy operation as they can be opened or closed by a 90-degree rotation of the handle. They allow for precise flow control by adjusting the position of the ball accordingly. This type of valve is particularly sought after in applications where quick and accurate flow control is required. UPVC ball valves find applications in various industries such as water supply, chemical industry, and irrigation systems.

On the other hand, hand diaphragm valves operate with a flexible diaphragm that is opened or closed by pressure or tension. This type of valve provides reliable sealing due to the tight fit of the diaphragm on the valve seat. Hand diaphragm valves are suitable for applications where a secure seal against aggressive media or high-pressure load is required. They are commonly used in the chemical industry, food processing, and other areas where stringent sealing requirements are imposed.

In terms of flow control, UPVC ball valves offer more precise control as the position of the ball can adjust the flow. Hand diaphragm valves, on the other hand, are designed more for full opening or closing operations and offer fewer options for flow regulation.

Kwerk GmbH is an authorized online retailer for high-quality valves and fittings, including UPVC ball valves and hand diaphragm valves. We offer a wide range of products from reputable manufacturers, including UPVC ball valves from FIP Italy. As one of the largest providers in Europe, we stand for quality, reliability, and excellent customer service.

If you need further information on UPVC ball valves or hand diaphragm valves, or if you require assistance in selecting the appropriate valve for your application, the knowledgeable team at Kwerk GmbH is at your service. Visit our B2B portal or contact us for customized consultation and individual offers. Trust Kwerk GmbH as your reliable partner for valves and fittings of the highest quality.