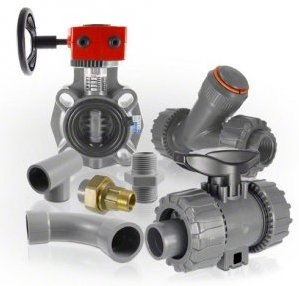 The PVC-U butterfly valve from FIP Italy is a high-quality valve specifically designed for use in pipeline systems. It is characterized by its robust construction, reliable performance, and high resistance to chemicals.

The butterfly valve is made of high-quality PVC-U material, which provides excellent strength and durability. PVC-U is known for its corrosion resistance and its ability to withstand various environmental factors. These properties make the PVC-U butterfly valve the ideal choice for demanding applications that require efficient flow shut-off.

The valve features a sturdy construction with a rotating disc element. By rotating the disc, the flow in the pipeline can be either opened or closed, allowing for easy control and regulation of the media flow. The PVC-U butterfly valve is equipped with a reliable seal that ensures leak-free operation and provides optimal sealing when the valve is closed.

Another important feature of the PVC-U butterfly valve is its resistance to chemicals. PVC-U is resistant to a variety of chemicals, including acids, alkalis, and many other aggressive media. This makes the valve well-suited for use in chemical industries, laboratories, or other applications where high chemical resistance is required.

The PVC-U butterfly valve from FIP Italy is manufactured according to international standards and stringent quality control procedures, ensuring high quality and reliability. FIP Italy is known for its long-standing experience in producing high-quality valves and has earned an excellent reputation in the industry.

As a longstanding partner of FIP Italy, Kwerk GmbH provides access to this high-quality PVC-U butterfly valve. Trust in our expertise and experience to find the appropriate solution for your specific requirements. Our PVC-U butterfly valve from FIP Italy is a reliable choice for efficient control of media flow in your pipeline systems.