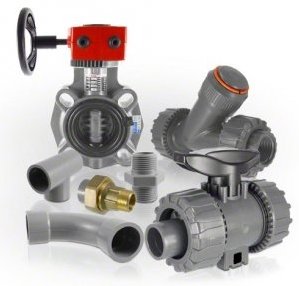 Welcome to Kwerk GmbH, one of the largest providers in Europe for high-quality FIP Italy valves and fittings. As an authorized online retailer, we offer you a wide selection of PVC-U ball valves that meet the highest quality standards.

Our PVC-U ball valves from FIP are distinguished by their outstanding quality, reliability, and durability. Made from unplasticized polyvinyl chloride (PVC-U), they are chemically resistant, corrosion-resistant, and UV-stabilized, making them ideal for demanding applications in various industries.

Our range includes a diverse selection of PVC-U ball valves to meet different requirements. You will find manual ball valves with lever handles or handwheels for easy operation, as well as automatic ball valves with electric or pneumatic actuators for automated processes. These valves enable precise flow control and ensure reliable sealing.

At Kwerk GmbH, we place great importance on quality and service. Our products undergo strict quality controls to meet the highest standards. As an authorized dealer of FIP valves, you can rely on our expertise and years of experience.

Our dedicated team is ready to assist you in selecting the appropriate PVC-U ball valves from FIP for your specific needs. We offer individual consultation, customized quotes, and excellent customer service.

Trust Kwerk GmbH as your reliable partner for high-quality valves and fittings from FIP Italy. As one of the largest providers in Europe, we take pride in offering you an extensive range of PVC-U ball valves of the finest quality. Visit our B2B portal or contact us today for more information or to schedule a personalized consultation. We look forward to providing you with the best solutions for your pipeline systems.