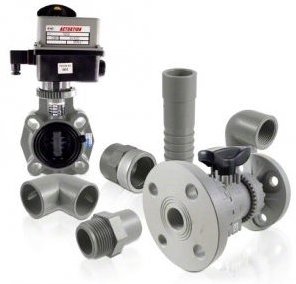 Discover the versatility and quality of PVC-C threaded fittings for secure and leak-proof connections in your pipe systems. As a leading manufacturer, FIP offers high-quality PVC-C threaded fittings, while the distributor, Kwerk GmbH B2B Portal, ensures a convenient and reliable procurement experience.

Material and Properties:
PVC-C (Chlorinated Polyvinyl Chloride) stands for excellent mechanical properties and high chemical resistance. These properties make PVC-C threaded fittings the optimal choice for demanding applications involving higher temperatures and aggressive media. Rely on the proven quality of PVC-C to protect your pipe systems in the long run.

Applications:
PVC-C threaded fittings find applications in a variety of industries and sectors. Whether in the chemical industry, water treatment, wastewater management, or industrial facilities, PVC-C threaded fittings provide a secure connection between PVC-C pipes and threaded connections. Trust in the reliability of PVC-C to optimize your pipe systems effectively.

Standards and Types:
FIP's PVC-C threaded fittings comply with common norms and standards, including DIN and ASTM. This ensures high compatibility and interoperability with other system components. Choose from a variety of types and sizes to find the appropriate PVC-C threaded fittings for your specific requirements.

Operating Pressure and Temperatures:
PVC-C threaded fittings offer excellent pressure resistance and can be used at operating pressures of up to X bar, depending on the size and type. Additionally, they are suitable for use at temperatures ranging from -X °C to +X °C. Familiarize yourself with the exact specifications of the desired PVC-C threaded fittings to achieve optimal results.

Connection Technique and Adhesive:
The connection of PVC-C threaded fittings is accomplished through the reliable solvent cementing method. Use specialized PVC-C adhesives to ensure a secure and leak-proof connection. Follow the manufacturer's instructions and consult an expert to achieve optimal adhesive results.

With PVC-C threaded fittings from FIP and the distributor Kwerk GmbH B2B Portal, you receive high-quality products and a convenient procurement solution. Rely on the expertise of FIP and the reliability of the Kwerk B2B Portal to efficiently connect and utilize your PVC-C pipe systems.