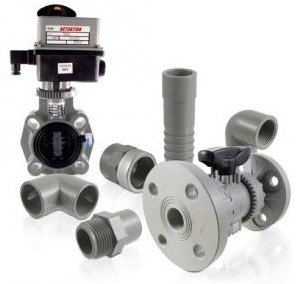 When it comes to reliable connections for CPVC pipes, CPVC solvent weld fittings are the go-to choice. At Kwerk GmbH's B2B portal, we offer a wide range of high-quality CPVC solvent weld fittings that provide a secure and durable solution for your piping requirements.


Key features of CPVC solvent weld fittings:

-Premium Quality: Our CPVC solvent weld fittings are made from top-grade chlorinated polyvinyl chloride (CPVC) material, ensuring excellent compatibility and performance when used with CPVC pipes. We prioritize quality to deliver fittings that meet industry standards and offer long-lasting performance.

- Solvent Weld Connection: The connection of CPVC solvent weld fittings is achieved through the use of a special CPVC solvent cement. The cement chemically fuses the CPVC surfaces, creating a strong and permanent bond. This solvent weld connection ensures leak-free operation and minimizes the risk of joint failure.

- Easy Installation: Installing CPVC solvent weld fittings is a straightforward process. The fitting surfaces and the ends of the CPVC pipes are cleaned, followed by the application of the CPVC solvent cement. The fitting is then inserted into the pipe end, and the joint is held in place for a short time to allow the solvent cement to set. This simple installation method saves time and effort during the assembly of your piping system.

- Superior Performance: CPVC solvent weld fittings exhibit excellent chemical resistance, corrosion resistance, and heat resistance. They can withstand a wide range of chemicals, making them suitable for diverse applications in industrial processes and water supply systems. With their ability to handle elevated temperatures, CPVC solvent weld fittings ensure reliable performance even in demanding environments.

At Kwerk GmbH's B2B portal, we understand the importance of reliable and efficient CPVC piping systems for your business. Our wide selection of CPVC solvent weld fittings caters to various applications, providing you with the necessary components to build a robust and durable piping infrastructure.

Visit our B2B portal at Kwerk GmbH to explore our comprehensive range of CPVC solvent weld fittings and find the perfect solutions for your specific needs. Our team is dedicated to delivering high-quality products and exceptional customer service, ensuring your satisfaction throughout the procurement process.

Trust Kwerk GmbH for your CPVC solvent weld fittings requirements and experience the reliability and durability that our products offer. Contact us today to learn more and start building a high-performance CPVC piping system for your business.