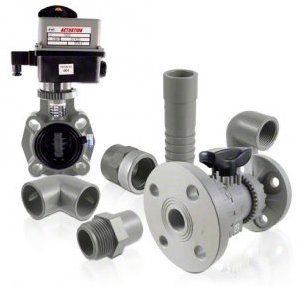 PVC-C (post-chlorinated polyvinyl chloride) is an amorphous thermoplastic with a higher chlorine content than PVC-U. At Kwerk, we offer PVC products made from rigid PVC materials (without the addition of plasticizers), which have been firmly established in the industrial plastic pipe construction for many years due to their excellent material properties.

Permissible operating pressures apply to PVC-C pipes, PVC-C fittings, and PVC-C connectors for the flow medium water, with a safety factor of 2.5 and a service life of 25 years. Please refer to the pressure-temperature diagram, which can be found under the PVC-C pipeline systems section in the expandable menu, for the corresponding values.


Advantages of PVC-C Pipe Systems:

Due to the interactions between chlorine atoms in the polymer chains, PVC-C exhibits high hardness, dimensional stability, and excellent chemical resistance at higher temperatures compared to PVC-U. These properties make PVC-C an ideal material for pressurized PVC-C pipe systems.


Behavior of PVC-C in Outdoor Applications:

PVC-C has good weather resistance in Central European climates north of the Alps, even when exposed to the shortwave UV components of sunlight. However, PVC-C can lose some impact resistance, so it is recommended to protect the material through pipe insulation, covering, or a protective coating in extreme application cases.


Chemical Resistance:

PVC-C demonstrates excellent chemical resistance, even at high temperatures and media concentrations. It is resistant to a variety of diluted or concentrated acids, alkalis, and aliphatic compounds. However, PVC-C may swell or dissolve in media such as esters, ketones, chlorinated hydrocarbons, and some other solvents. It is not resistant to strong oxidizing agents. The chemical resistance depends on various factors such as operating temperature, operating pressure, concentration, and other influences. For more information on resistance, please refer to our resistance list or consult our technicians.


Temperature and Pressure Ranges:

PVC-C can be used in the temperature range of 0°C to +90°C (short-term). However, it is not recommended to operate PVC-C pipes, fittings, and connectors continuously above +80°C. Due to its high chlorine content, PVC-C exhibits its advantages especially at elevated operating temperatures. For maximum internal pressure capacities of PVC-C pipes and PVC-C fittings, please refer to the "pressure-temperature diagram." For the maximum internal pressure capacity of PVC-C connectors, please also consider the instructions provided with the corresponding PVC-C connectors or consult our technicians.


Easy Connection:

PVC-C pipeline components are joined together by solvent cementing. The creation of solvent cement joints requires specific expertise, which can be acquired through training courses, among other means. Please observe the specific guidelines provided by adhesive suppliers and the solvent cementing instructions published by the KRV (Kunststoffrohrverband e.V.), as well as the corresponding DVS data sheets.

The above information has been created with the utmost care and best knowledge. However, no binding commitment can be derived from the content. For more information, please refer to the expandable menu on the right side of the article. If you have any questions, please feel free to contact us by phone.