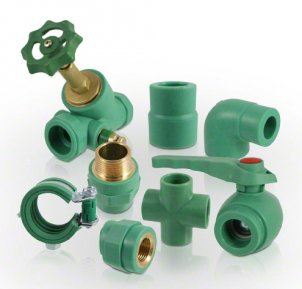 PP-RCT (Polypropylene Random Copolymer Temperature Resistant) and PP-R (Polypropylene Random Copolymer) are two generations of polypropylene materials used in pipe systems. Here are some characteristics and applications of each:

PP-RCT:
- Structure: PP-RCT allows for the production of pipes and fittings with higher hydraulic capacity and increased pressure resistance. This means that pipes can be made thinner while maintaining the same outer diameter, resulting in higher flow performance. The outer diameter can also be reduced by one dimension while keeping the same inner diameter.
- Pressure Resistance: PP-RCT has significantly higher pressure resistance compared to PP-R. For example, at an application temperature of 70°C, it can handle up to 60% higher pressure.
- Properties: PP-RCT exhibits high chemical resistance, corrosion resistance, and excellent processability.
- Material: PP-RCT is a polypropylene random copolymer with a modified crystalline structure (beta nucleated) and increased temperature resistance. It is available in the color RAL 6024 Traffic Green.
- Connection Methods: PP-RCT pipe systems can be connected using heat fusion methods such as socket fusion, butt fusion, or electrofusion, as well as flange connections.

PP-R:
- Material: PP-R is a polypropylene random copolymer with a high molecular weight and high heat stabilization. It belongs to the group of polyolefin thermoplastics and is available in green color.
- Standards and Approvals: PP-R pipes and fittings meet the requirements of DIN EN ISO 15874 for plastic piping systems for hot and cold water installations. They are registered by DVGW (German Technical and Scientific Association for Gas and Water) and comply with the KTW recommendation of the Federal Health Office (BGA) in Germany.
- Operating Pressure: PP-R pipe systems have different operating pressures depending on the application. For cold water at 20°C, the pressure can go up to 20 bar, for hot water at 70°C, it is up to 10 bar, and for heating systems at 70°C, it is up to 3 bar.
- Applications: PP-R pipes and fittings are suitable for various applications, including drinking water, hot water, and heating systems, rainwater harvesting systems, apparatus and plant construction, underfloor heating, greenhouses, swimming pools, shipbuilding, thermal baths, water treatment, compressed air lines, and more. They are known for their corrosion resistance and long service life.
- Accessories: In addition to PP-R pipes and fittings, accessories such as flanges, tools, and welding machines for PP-R processing are available.

Itís important to note that the information provided is based on the details from Bänninger, Reiskirchen, and itís always recommended to consult the specific manufacturerís guidelines and specifications for accurate and up-to-date information about their products.