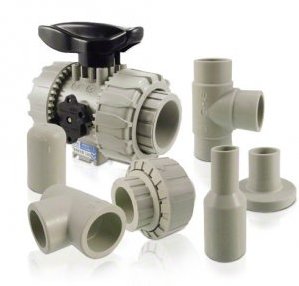 Welcome to the B2B portal of Kwerk GmbH! Here you will find comprehensive information about PP-H (Polypropylene Homopolymer) pipes and the SDR value. As a renowned provider of high-quality pipe systems, we offer detailed insights into the properties and applications of PP-H pipes.

Our PP-H pipes are made of polypropylene homopolymer, a top-grade thermoplastic material known for its high temperature resistance and chemical resistance. They are excellent for demanding industrial applications where reliable performance is required.

The applications for PP-H pipes are diverse and include industrial plants, chemical facilities, wastewater systems, process lines, and other challenging environments. With their excellent resistance to acids, alkalis, chemicals, and high temperatures, they provide a reliable solution for transporting aggressive media.

An important measure for sizing pipe systems is the SDR value (Standard Dimension Ratio). This ratio between the outer diameter (OD) and the wall thickness of a pipe determines its pressure capacity and sizing. A lower SDR value means a thicker wall thickness relative to the diameter and a higher pressure capacity.

When selecting PP-H pipes, it is crucial to consider the appropriate SDR value according to the requirements of your application. This ensures a safe and reliable pipeline that can withstand specific pressure loads.

We would like to emphasize that the information provided is of a general nature, and specific technical data may vary depending on the manufacturer and product. For precise technical data and recommendations for your project, we recommend contacting our technical experts or the manufacturer.

Trust in the experience and expertise of Kwerk GmbH and explore the versatile possibilities that PP-H pipes offer. Feel free to contact us for more information and personalized consultation on our high-quality pipe systems.