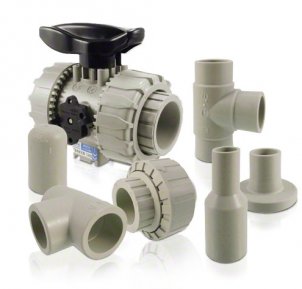 Looking for high-quality PP pipes, fittings, and valves for your piping system? Look no further! We offer a wide range of reliable and durable PP products that are designed to meet your specific requirements.

Our PP pipes are made from superior PP-H (Polypropylene Homopolymer) material, ensuring excellent elasticity and tensile strength. Whether you need socket fusion fittings, butt fusion fittings, or electrofusion fittings, we have you covered. Our PP valves, including ball valves, diaphragm valves, strainers, check valves, and butterfly valves, provide reliable performance and seamless integration into your piping system.

What sets our PP systems apart is their exceptional chemical resistance, mechanical properties, and high thermal stability. With a pressure rating of up to 10 bar and a temperature range of 0°C to +80°C, our PP products are suitable for a wide range of industrial applications. From chemical process industries to wastewater treatment plants, our PP pipes, fittings, and valves offer long-lasting performance and efficient transportation of aggressive chemicals.

At Kwerk GmbH, we understand the importance of easy installation and system modification. Thatís why our PP systems are designed to be easily welded using approved methods such as socket fusion welding, butt fusion welding, and electrofusion welding. With our high-quality PP products and reliable welding processes, you can achieve hassle-free installation and seamless integration into your existing system.

Our PP systems are not only durable and efficient but also environmentally friendly. Made from recyclable materials, they have a minimal impact on the environment. Plus, our PP pipes and fittings require fewer joints, resulting in reduced leakage and lower maintenance costs.

Trus Kwerk GmbH for all your PP pipe, fitting, and valve needs. With our extensive range of products, exceptional quality, and reliable performance, we are your trusted partner in the world of piping solutions.

Contact us today to explore our comprehensive range of PP pipes, fittings, and valves and experience the reliability and durability that our products offer.