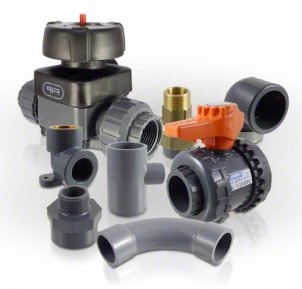 At Kwerk GmbH, your reliable B2B portal, we offer an extensive selection of high-quality ABS fittings, including ball valves, strainers, check valves, and pressure relief valves. Our ABS fittings enable reliable and seamless connections in pipe systems, accommodating different pipe diameters and materials.

Our ABS ball valves provide precise control of fluid flow and are ideal for a wide range of applications. With our ABS strainers, you can effectively filter contaminants from the fluid stream, optimizing the efficiency of your system.

Thanks to our high-quality ABS check valves, you can prevent unwanted backflow and protect your pipe system from damage. Our ABS pressure relief valves ensure consistent pressure regulation and are perfect for systems with variable pressure requirements.

Our ABS fittings are characterized by their chemical resistance, durability, and easy installation. They find applications in various industries such as water and wastewater management, chemical industry, and food processing.

Trust Kwerk GmbH, your reliable B2B portal, to provide you with high-quality ABS fittings for your installation projects. We offer you a wide range of ABS fittings that meet your requirements and enable efficient and reliable control of your pipelines.

Kwerk GmbH B2B - Your reliable source for premium ABS fittings. Contact us today for more information and personalized consultation.