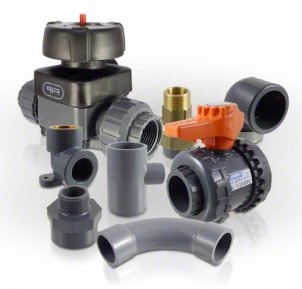 ABS threaded fittings are specially designed components for the installation and connection of ABS pipe systems. They are used to create a reliable and tight connection between pipes by enabling threaded connections. ABS threaded fittings are available in various designs, including female threads (internal threads) and male threads (external threads).

These fittings are made of ABS (Acrylonitrile Butadiene Styrene), a robust and durable thermoplastic material. ABS is known for its chemical resistance, mechanical strength, and impact resistance, making it ideal for use in various applications. ABS threaded fittings are suitable for both industrial and domestic environments and find applications in areas such as plumbing installations, water supply, wastewater pipes, and more.

The threaded connection of ABS threaded fittings allows for easy and quick installation without the need for additional adhesives or tools. The precisely manufactured threads ensure a secure and tight connection that can withstand system pressure and loads. ABS threaded fittings provide flexibility in adapting and expanding the pipe system as they can be easily combined with other ABS fittings and pipes.

It is important to select the correct size and type of threaded fittings according to the requirements of your application. The common thread types are metric (M) and inch (NPT), so it is important to check compatibility with other components.

ABS threaded fittings offer a reliable and durable solution for your pipe systems. They enable easy installation, provide high chemical resistance, and ensure a secure connection. Choose ABS threaded fittings to make your installations seamless and efficient.