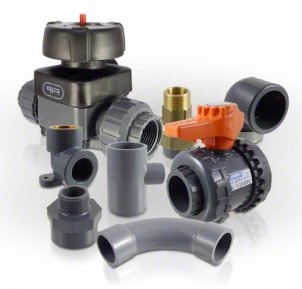 Building Strong Connections with ABS Solvent Cement Fittings: Reliable Solutions for ABS Pipe Systems

At Kwerk GmbH, we take pride in offering high-quality ABS solvent cement fittings that excel in connecting ABS pipes across a wide range of applications. Crafted from ABS (Acrylonitrile Butadiene Styrene), a resilient and durable plastic material, these fittings boast excellent chemical resistance and stability. They provide a dependable and long-lasting connection that meets the demands of various industries.

The beauty of ABS solvent cement fittings lies in their ease and speed of installation. Through the process of solvent cementing, these fittings can be effortlessly and securely joined to ABS pipes. This ensures a tight and leak-free connection that withstands the pressures and fluid systems it encounters.

Our ABS solvent cement fittings come in a variety of shapes and sizes, including angles, tees, reducers, caps, and more. This versatility allows for flexible design and adaptation to different piping requirements. Additionally, they exhibit good chemical resistance to a wide range of common chemicals and fluids, making them ideal for industrial environments such as the chemical industry, wastewater treatment, and water supply.

The benefits of ABS solvent cement fittings extend beyond their durability and chemical resistance; they are also cost-effective. ABS is an affordable material that offers an efficient solution for piping systems. These fittings require minimal maintenance and contribute to reducing operational costs while ensuring reliable and long-term performance.

At Kwerk GmbH, we provide top-quality ABS solvent cement fittings that adhere to the highest industry standards. Our products are meticulously crafted and tested to deliver optimal quality and performance. Trust in our expertise and extensive range of ABS solvent cement fittings to meet your industrial requirements.

Elevate your ABS pipe systems with Kwerk GmbH's premium ABS solvent cement fittings.