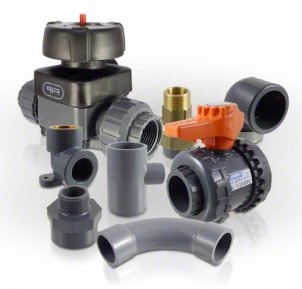 Discover the superior ABS pipe systems from DURAPIPE SuperFLO, designed to meet the most demanding requirements. Our ABS pipes are compliant with KIWA 49, ISO 161/1, and ISO DIS 15493 standards (where applicable), ensuring reliable performance and durability. With a pressure rating of PN10 at 20°C for sizes up to 250 mm and PN8 at 20°C for size 315 mm, our ABS pipes provide optimal performance in various applications.

When it comes to ABS fittings, our DURAPIPE SuperFLO range is a perfect match. Compliant with KIWA 549, ISO 727, and ISO DIS 15493 standards (where applicable), our ABS fittings offer seamless compatibility and superior quality. With the same pressure ratings as our ABS pipes, our fittings ensure a reliable and leak-free connection.

To guarantee the integrity and performance of your system, it is crucial to use ABS products from a single manufacturer. Mixing materials from different manufacturers may compromise warranties and performance. If alternatives are necessary, ensure they meet the same high standards as our DURAPIPE SuperFLO ABS products.

We take pride in our commitment to quality and the environment. Our ABS pipes, fittings, and valves are manufactured in an ISO 9001-certified environment, ensuring consistent quality and reliability. Moreover, we comply with environmental legislation, and our manufacturing process includes performance reviews and adheres to ISO 14001 Environmental Management System.

Rest assured, our ABS pipe systems have obtained third-party approvals, including WRAS certification for use in contact with drinking water. Additionally, we have received marine approvals from renowned organizations such as the American Bureau of Shipping, Bureau Veritas, Germanischer Lloyd, Det Norske Veritas, Lloyds Register UK, RINA, and the Russian Marine Register.

With a design life of 50 years at their maximum rated pressure and working temperature of 20°C, our ABS pipes, fittings, and valves are built to last. Stringent process control testing is conducted during manufacture to ensure consistent quality. Chemical resistance data is readily available, enabling designers and specifiers to assess the suitability of our ABS materials, seals, and gaskets.

For seamless installation, we provide comprehensive technical documentation and installation recommendations. Our free-of-charge training service ensures designers and installers are equipped with the knowledge to install our ABS systems correctly.

Choose our DURAPIPE SuperFLO ABS ball valves, butterfly valves, diaphragm valves, and check valves for superior performance. Our products undergo rigorous testing to meet industry standards, and we offer a range of options for pressure ratings, materials, and actuation methods.

Trust DURAPIPE SuperFLO ABS pipe systems for reliable and high-quality solutions in a variety of applications. Contact us today to discuss your project requirements and benefit from our expertise in ABS pipe systems.