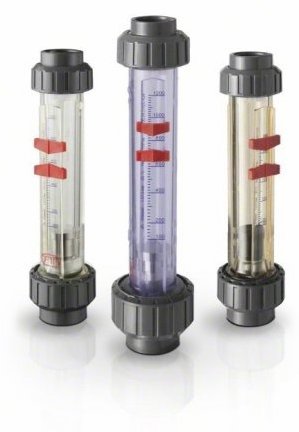 Float flow meters, also known as float-type flow meters or rotameters, are highly accurate instruments for measuring the flow of liquids or gases. This measuring device operates on the principle of buoyancy and delivers precise and dependable measurement results. A typical float flow meter consists of a vertically arranged glass tube with an inlet at the bottom and an outlet at the top. Inside the glass tube, there is a float that is pushed upward by the flow of the medium. The stronger the flow, the higher the float rises in the glass tube. The position of the float on a scale attached along the glass tube allows for easy reading of the flow value.

Float flow meters are known for their ease of use and do not require an external power supply. They provide a visual display of the flow, enabling quick and intuitive reading. This type of flow meter finds applications in various fields. In the process industry, float flow meters are used to monitor the flow of liquids or gases in chemical plants, refineries, food processing facilities, and other production environments. In water treatment, they are employed to measure the flow of water in wastewater treatment plants, drinking water facilities, and irrigation systems. Additionally, float flow meters are utilized in heating and air conditioning systems to monitor the flow of water or coolant. In laboratories, they find application in measuring the flow of liquids and gases in scientific experiments and research applications.

It is important to note, however, that float flow meters are best suited for low to medium flow rates. At extremely low or high flows, they may deliver inaccurate or unreliable results. Additionally, the installation of a float flow meter in a pipeline introduces a certain pressure loss, which must be taken into account in low-pressure or low-flow systems. Moreover, float flow meters are sensitive to vibrations and shocks, which can lead to imprecise measurements. In environments with strong vibrations or when dealing with aggressive media, alternative solutions that better suit the specific requirements should be considered.

Despite these limitations, float flow meters offer numerous advantages. In addition to their user-friendly operation and easy installation, they do not require additional instrumentation or an external power supply. This makes them cost-effective solutions for flow measurements in various applications. Furthermore, they provide a direct visual display of the flow, enabling operators to quickly and easily read the current flow rate.

To ensure accurate measurements, proper calibration of float flow meters is crucial. Calibration is typically performed for a specific medium and is based on either experimental data or theoretical assumptions. It is important to ensure that the flow meter is correctly calibrated for the specific medium and operating conditions in order to deliver accurate measurement results.

When selecting a float flow meter, the choice of materials should also be considered. The glass tube is often made of robust and transparent borosilicate glass, ensuring excellent visibility of the float. The float itself can be made of various materials such as metal or plastic. The selection of material depends on the specific characteristics of the medium, including temperature, pressure, and chemical resistance.

Moreover, there are electronic versions of float flow meters available that operate on the same principle but employ sensors to measure the flow. These electronic flow meters offer advanced features such as digital displays, data recording, integration into control systems, and communication interfaces. They provide higher precision and offer additional possibilities for flow monitoring and control.

In conclusion, it is important to emphasize that the choice of the appropriate flow measurement device depends on the specific requirements of the application. When in doubt or when facing more complex requirements, it is advisable to seek advice from experts to ensure that the selected measuring device meets the specific requirements and enables accurate and reliable measurements.