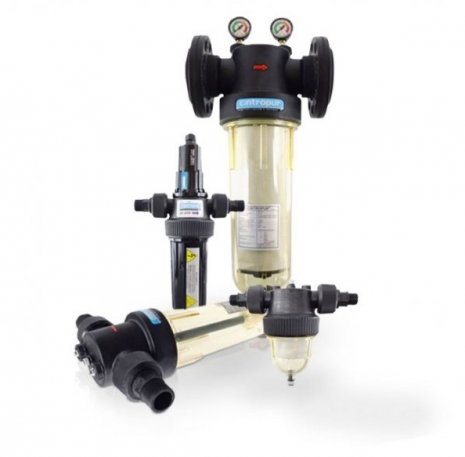 GENERAL DESCRIPTION

Cintropur® water filters are intended for domestic and industrial water system filtration, as well as rain, spring or well water recovery and treatment. They are also suitable for watering and irrigation. Cintropur® performs either a mechanical filtration of particles, a chemical filtration through activated carbon absorption, or sterilizes water by ultraviolet radiation of UV-C type. Cintroclear® purifiers filter drinking water without unnecessarily wasting any of the precious resource.Many accessories and spare parts are available from your distributors.

The water filters of the CINTROPUR® series are designed for filtering clear water that is only slightly contaminated with suspended solids, such as tap water, rainwater, well water and spring water. Other non-aggressive liquids can also be filtered. Possible areas of application include industry, public institutions and agriculture. The materials used in the manufacture of the filter are suitable for filtering liquid food. The NW 500 TE with activated carbon is widely used for dechlorination, odor elimination, taste improvement, and treatment of pesticides and herbicides.

Basic principle
Protection of industrial water circuits, common property and agricultural facilities by filtering out particles suspended in water (soil, sand, rust particles, etc.).

APPLICATIONS:
- Industry : protection of sanitary networks and production machinery.
- Agriculture : filtration for irrigation systems
- Filtering of water for animal drinkers
- Filtering of rain and well water.
- General public : (hotels, restaurants, schools, high-rise buildings....) Protection of sanitary networks and household accessories connected to them.

Advantages:
- High and constant flow rate
- Low pressure drop
- Centrifugal pre-filtration (vortex)
- Professional, robust and absolutely reliable unit
- Easy and convenient drainage (drain ball valve at the bottom of the bell)
- Exclusive, economical and low-cost filter cuff system
- Constant control of the contamination of the filter cuff (transparent filter bell)

Water treatment:
TE series filters (water treatment) are equipped with a distribution pipe for various active substances.
Polyphosphates, Silicates, SilicoPhosphates
Effective at up to 60°C, these products are used to reduce the harmful effects and deposits of limestone. As is commonly known, these products can also be used as rust inhibitors for new plumbing installations.

CINTROPUR SCIN activated carbon
The large volume of pores and large contact surface area make our activated carbon an excellent choice for improving taste, removing odors, reducing chlorine levels, ozone and contaminants such as pesticides and other organic substances found in water.