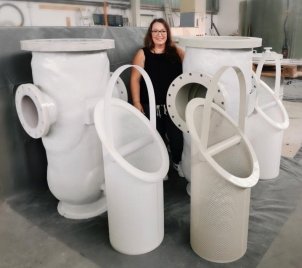 Pot Strainers in PVC U, PP, and PVDF
DN 65 - DN 300


In the chemical and process engineering industries, especially for the use of plastic piping systems with large dimensions, pot strainers made of PVC U, PP, and PVDF are recommended for protecting fittings, sensors, and pumps from contamination. These types of strainers provide a long service life, high operational reliability, and ensure the functionality of components for plant operators. For more demanding requirements, Kwerk GmbH also offers reinforced versions with GFK reinforcement in the market.

Pot strainers are used where it is not possible to remove the strainer from below due to structural constraints. The downward strainer removal poses increased potential risks for operating personnel and requires additional safety precautions. Kwerk GmbH manufactures a standard range of pot strainers in their workshop and also produces custom-designed pot strainers based on customer requirements and installation situations.

The strainers are manufactured in flange design according to fixed flange specifications, such as DIN EN 1092-1, DIN 2501/PN 10, or ANSI. The standard mesh size is 2.0 mm, alternatively 0.5 mm + 1 mm are also available. Other mesh sizes are available upon request.