CO 2 absorbent granules


With the CO 2 absorption granulate, KWERK GmbH offers a high-performance absorption medium with a consumption indicator for the absorption of carbon dioxide (CO2) in industrial applications. These include u. a. Ventilation filter for wastewater systems and cooling water (deionized), as well as protection and rescue rooms.

The consumption indicator of the absorbent shows by means of discoloration from white to purple, the carbonic acid saturation and is thus the external visible signal to exchange the soda lime. The special pill shape ensures that low resistance and long operating times are offered.

Only a uniform shape produces a uniform filling and thus a reproducible absorption behavior.

The large internal absorption area of ​​the pills ensures a high absorption capacity for acidic gases. At the same time, the shape ensures that the abrasion resistance is high and thus the dust nuisance remains low. Furthermore, the uniform shape allows low resistance and ensures long operating times. The uniform bed prevents the formation of channels.

Typical applications:
- Ventilation filter for wastewater systems
- Supply air filter for cooling circuits in power plants (Deionat)
- Protection and rescue rooms in mining
- Rescue trains

Specifications:
- Grain size: 2 - 4 mm
- Bulk density: 730 - 930 g / L
- CO 2 absorption capacity: 23% by weight
- CO 2 absorption capacity: 158 L CO 2 / kg (depending on the application parameters and the absorption system)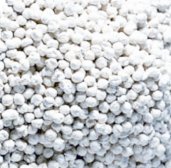 General protective measures:
Avoid contact with eyes and skin! Do not inhale dust!
The product is not flammable!

Storage:
Only in cool and well-ventilated rooms in original container Keep container tightly closed! Do not store together with acids !

Storage:
- 5 to 40 ° C, shelf life: 5 years
- The storage temperature must not exceed 50 ° C! Hazard-determining components of labeling: calcium and sodium hydroxide
- No dangerous goods !