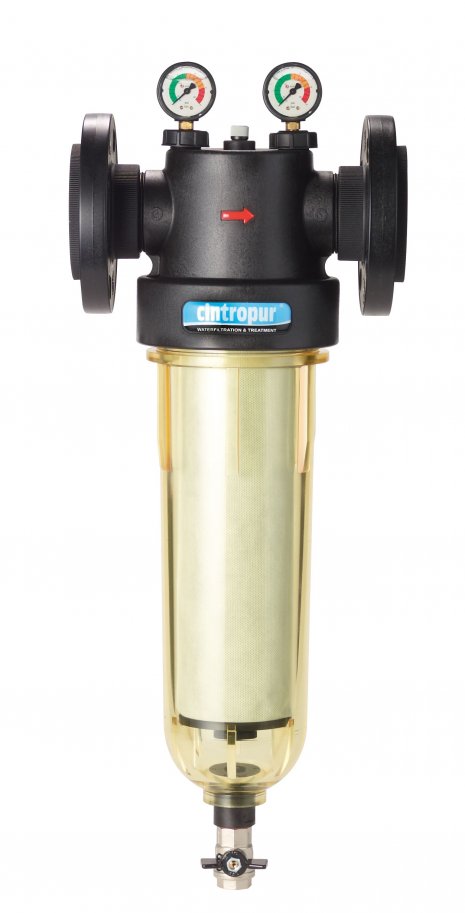 CINTROPUR® Industrial filters are high quality fluid filters of the company Airwatec/Belgium. The solid industrial version of the NW series is perfectly suitable for applications in industry, food technology as well as in chemical industry and process engineering. The housing material is food-safe and the filters are applicable in food industry and drinking water treatment.

The industrial product line features 3 filters and is capable of handling volume flows from 20 to 30 m³/h.

•NW 500 : 20 m³/h (2")
•NW 650 : 25 m³/h (2 ½")
•NW 800 : 30 m³/h (3")

The large filter surface, the great volume flow and the long service life make CINTROPUR® industrial filters an important element in plant planning. The sophisticated and cost-effective range of filter sleeves from 1 to 300 micron perforation minimize further the operatorís costs.

Operating principle:
The CINTROPUR vane changes the liquid flow using centrifugal motion, forcing the larger particles down into the lower bowl, depending on the chosen filter sleeve micron-size.
Depending on the required fineness, the filter sleeve holds back the fine particles, while the larger particles are collected in the lower bowl and discharged by means of a ball valve.

Advantages :
- High and constant flow rate
- Low pressure loss
- Centrifugal prefiltration with a cyclonal effect
- Professional, robust and absolutely reliable unit
- Fast and easy flushing out (drain ball valve at the bowl)
- Exclusive, ecological and cost-effective filter sleeve system
- Permanent visual control of the filter sleeve (transparent bowl)

Application areas:
Filtration of process water, well water and waste water, protection of plant equipment and corresponding components, with activated carbon to reduce odor, chlorine, pesticides and organic substances, etc.

Water treatment
The water treatment (TE) models are equipped with a special device that allows the use
of different water treatment products.

• Polyphosphates, silicates and silicon-polyphosphates.
Efficient up to 60°C / 140° F, these products are used to reduce the harmful and scaling
effects of the water hardness. The protection of new installations against rust is also a well-known application.

• CINTROPUR SCIN activated carbon
Its large pore volume and pore size distribution makes this activated carbon suitable for the removal of odor, chlorine, ozone, micro-pollutants such as pesticides and other organic particles in the water.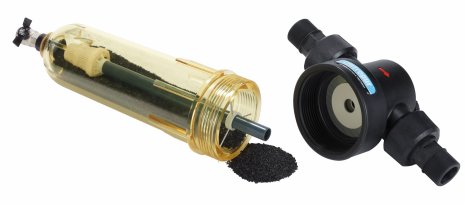 Typ NW500 TE + activated carbon