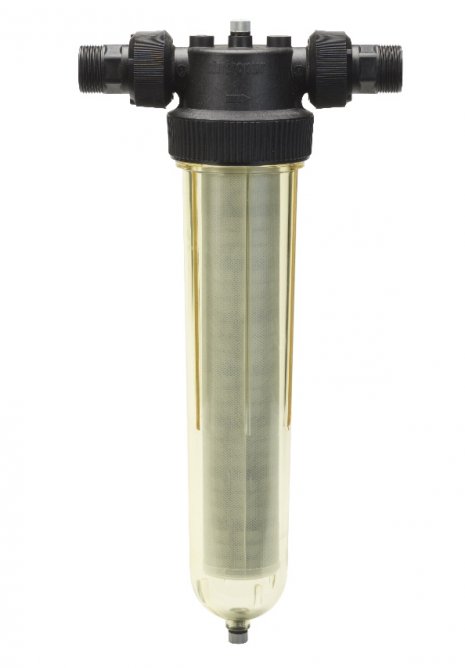 Application areas

Residential: Protection of sanitary networks supplied with domestic water, rainwater or well water.
Filtration of water before softener, reverse osmosis or treatment by ultraviolet.
Industry: Protection of sanitary networks, machine tools and all industrial machinery for
water treatment. Filtration of water before high pressure cleaning machines (100 to 200 bar) and high pressure plunger pumps (1500 to 3000 bar).
Agricultural: Filtration of watering (spraying) installations, filtration of water for animals, filtration of rainwater and well water.



General description

Made entirely from top quality synthetic material, CINTROPUR filters are ideal for use with food products and drinking water.

The CINTROPUR vane changes the liquid flow using centrifugal motion, forcing the larger particles down into the lower bowl, depending on the chosen filter sleeve micron-size.


Basic principle

The protection of sanitary domestic, collective and agricultural water supplies by filtering out the solid particles (earth, sand, rust, etc,…) suspended in the water. The protection filter will be ideally placed at the entrance of the installation in order to protect all the devices connected below.


Advantages :

- High and constant flow rate
- Low pressure drop
- Centrifugal prefiltration with a cyclonal effect
- Professional, robust and absolutely reliable unit
- Fast and easy flushing out (drain ball valve at the bowl)
- Exclusive, ecological and cost-effective filter sleeve system
- Permanent visual control of the filter sleeve (transparent bowl)


Water treatment

The water treatment (TE-CTN) models are equipped for the use of different water
treatment products.


• Polyphosphates, silicates and silicon-polyphosphates
Efficient up to 60°C / 140° F, these products are used to reduce the harmful and scaling effects of the water hardness. The protection of new installations against rust is also a well-known application.

• CINTROPUR SCIN activated carbon
Its large pore volume and pore size distribution makes it highly suitable for the improvement of taste and the removal of odour, chlorine, ozone, micropolutants such
as pesticides and other organic substances in the water .